Mots clé « Web Doc » ? Popularité et actualité… Google vous conseille !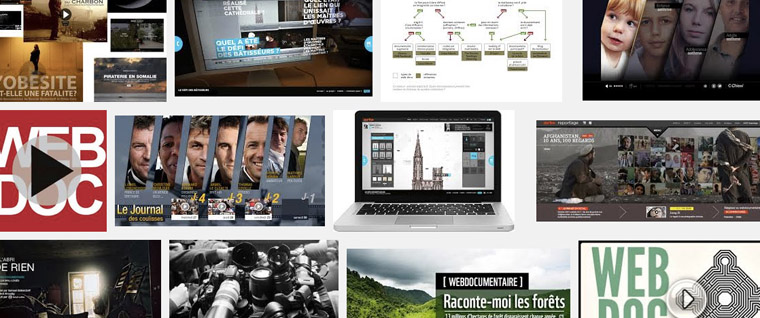 Webdocs remarquables 

Days with my father   Les derniers jours d'un vieil homme, photographié par son fils photographe… sensible, bouleversant à la première image. Des photos et des légendes… c'est un webdoc !
Thanatorama  Un des premiers webdocs français, puissant, drôle, captivant, avec toujours autant d'audience !
Portraits d'un nouveau monde  24 webdocs France5
6 billion others  Projet sophistiqué et interactif
The Places We Live
Les Communes de Paris
Prison Valley   Mythique…
Changer le monde, portraits d'entrepreneurs sociaux en action (Canal+)
A l'abri de rien, une enquête sur le mal logement en France (Abbé Pierre)
Beyond 9/11 : portraits of Resilience
Alma, une enfant de la violence   
17 octobre 1961, La nuit oubliée
What's up webdoc ? c'est quoi un webdocumentaire ? un webdoc sur le webdoc… une réflexion sur 7 années de webdocumentaires
Mines à webdocs 

Le Monde.fr   des dizaines de webdocs simples mais passionnants – dont Voyage au bout du charbon
L'ONF (canadien), grand producteur de webdocs
MiniMovies.org
INA.fr  Quelques webdocs, dont 17.10.61
New York Times
MediaStorm
Interactive narratives
Vigie Du Web   
Les sites de référence 


WebDocu.fr   Les docs, les sites, les développeurs, les prods…
CinemaDocumentaire    Le blog documentaire
WebDoc.com  
Web-documentaire.org  Nouveaux webdocs
Producteurs de référence 

Articles de référence 

Sandra Gaudenzi décrypte le monde du webdocumentaire
Webdocu.fr : articles de réflexion sur le webdoc 
Webdocs : Guide de survie et conseils pratiques  Un ouvrage de Matthieu Lietaert (21,50 Euros) très utile !