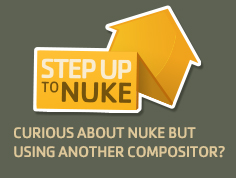 Vous travaillez sur  After Effects, Shake et/ou Fusion mais vous vous posez des questions sur Nuke?
The Foundry, la société londonienne spécialisée dans le développement de plugins de compositing, qui reprend le développement et l'édition de Nuke, vous répond: « Grâce à sa vitesse et sa puissance, Nuke vous donne plus de temps pour réaliser des effets plus créatifs. Essayez Nuke et bientôt vous vous demanderez comment vous avez pu vous en passer!
Juste au cas où vous penseriez que notre avis est biaisé, nous avons demandé leurs opinions à plusieurs utilisateurs qui ont fait le switch. Ecoutez ce qu'ils en pensent à travers nos vidéos témoignages. »
En cette journée de Pentecôte, cliquez sur ce lien et laissez the Foundry vous évangéliser, mes bien chers frères! 
Certes ça parle anglais, mais il reste toujours la déduction des images.