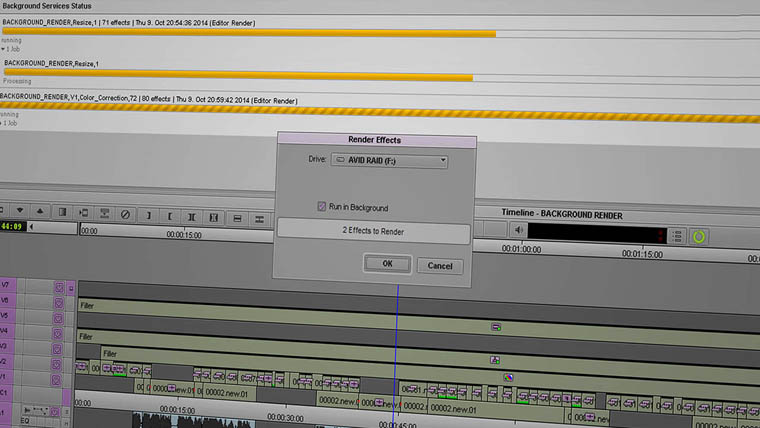 La version 8.2 de Media Composer est dispo depuis la fin du mois d'octobre. Retour sur ses nouveautés….
Rendu en tâche de fond :
le Render Effects in the Background fonctionne comme Background Consolidate and Transcode.
en cochant l'option « Run in Background », Avid calcule en tâche de fonds les effets
on peut suivre le rendu des effets
une fois rendue, une séquence sera reliée aux éléments rendus
Favorites bins :
Ce sont des chûtiers facilement accessibles quel que soit le projet en cours de montage.
Ces favorites bins sont également accessibles à des utilisateurs multiples (si on le désire).
Interface, fenêtres, ergonomie…
La fenêtre Select Project a été agrandie pour visualiser des noms plus longs.
Recherche de marqueurs de commentaire : on peut faire des recherches de texte dans le champs Marker Comment, dans toutes les séquences et les master clips.
Quick Filter dans la fenêtre Project : une case de recherche rapide dans la fenêtre Project permet de faire des recherches de bins, en temps réel
Et aussi :
support DMF pour les fichiers DPX
réglages de cache image, en allouant la RAM précisément

En savoir plus :